Children in Between
A Co-Parenting Program for Divorcing and Separating Parents
Give your Child the Best Chance
The divorce of one's parents is a major event in the life of a child. Children in Between Online ensures that the accompanying stress is minimized, the long-term psychological burden is eased, and the whole process is made more understandable and manageable for the parents so that children will benefit.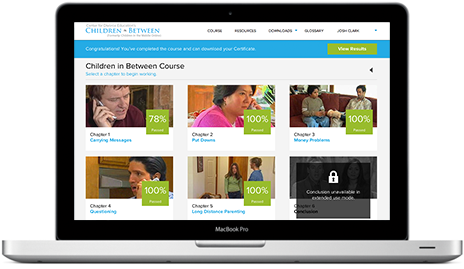 Accepted by Many Courts*
Children In Between Online is commonly accepted by court systems around the United States to fulfill requirements regarding divorce education for parents - often replacing inconvenient and expensive in-person classes.
*Check with your court or your attorney,
to confirm that CIBO is accepted.
Video Scenarios

Watch videos with common co-parenting problems and then see different responses that produce positive and negative results.

Guided Questions

After each video scenario, CIBO presents the user with guided questions to explore how each problem can be addressed, and to increase your understanding of the situation.

Reinforcing Quizzes

At the end of each chapter, you'll have the opportunity to reinforce what you've learned by taking a quiz. Quizzes help ensure that you'll be ready to handle situations in the future.

Skills Practice

You can spend time practicing and refining your skills in our Skills Practice section - meant to increase your confidence in the skills taught in CIBO.
Covered in the course
Money Problems
Children Carrying Messages
Putting Down the Other Parent
Long Distance Parenting
Quizzing Children About the Other Parent
Praise for Children In Between
"Children in Between Online made me think very hard about my actions with my soon to be ex-spouse and what is best for our son."

Molly Dever, Shepherdsville, KY
"This program was recommended by our co-parenting counselor and I would recommend it to other couples who are thinking about or getting a divorce involving children. In fact, I have recommended it to one of my co-workers already. What was most useful for me was the different techniques of communication - self talk, "I" statements, etc."

Diane Hodges, Fairbanks, AK
"After taking CIBO and putting the skills I learned into practice, my kids are much more at ease and know that they can talk to daddy about anything, and it's OK. I recommend this class to everyone!"

Richard Demarco, Grants Pass, Oregon
"We've been using Children In Between program distributed by the Center for Divorce Education for 10 years. It's been life changing for so many families!"

Doak Givan, Executive Director of Family Services Center, Inc.
"I highly recommend CIBO to anyone who wants to have a closer, more respectful relationship with the other parent and children."

John Parker, Roseburg, Oregon
"Excellent...Superb...I was impressed with the quality."

Hon. Cheryl Karner, Domestic Relations Judge

For Attorneys
Children in Between Online offers your clients a fantastic and pro-active way to help their kids through this tough time. This is a quick win for you.